Lumenier 6x4 - Slow Flyer Propeller (Set of 4 - Clear)
Fast Two-Day shipping

Earn 399 DronePoints




---
---
The Lumenier 6x4 propeller is an ultralight two blade prop with great power, efficiency, and POPO compatibility. We know there is still love for the two-blade prop out there, so we decided to create an amazing long-range focused prop with great cruising ability. Compared to almost every 6x4 out there, this prop is over a gram lighter (4.6g) and this makes a difference in flight time over the duration of a long flight, and believe us, we've tested them and have gotten some amazingly long time in the air. 
This prop has a balanced and smooth flight design that rewards consistent throttle and lower KV motors which will cruise you towards the sunset. Think of these props as some nice touring tires on your Cadillac.
Specifications
Rotation: CW/CCW
Length: 6"
Pitch: 4"
Material: Polycarbonate
Weight: 4.6g
Blades: 2
Includes
2x CW 6x4 Propeller
2x CCW 6x4 Propeller
Design. From the ground up.

During the design of any Lumenier propeller, key elements are considered such as blade RPM, motor size and KV, and overall flight envelope. These inputs create operating points such as Reynolds Numbers, Mach, Beta Angles, etc. which are used to guide the design process.
Performance based on Science.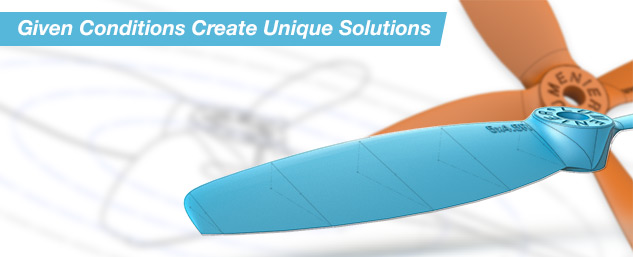 Given the operating points and design goals, Lumenier produces unique airfoils leveraging a proprietary genetic algorithm that iterates 10s of thousands of possible airfoils and compares them to each other and also a library of well known existing airfoils. This creates the best possible and most suitable combination of airfoils as well as overall blade design. For this reason, no 2 blades on any Lumenier propeller are the same.
Airfoil design with a purpose.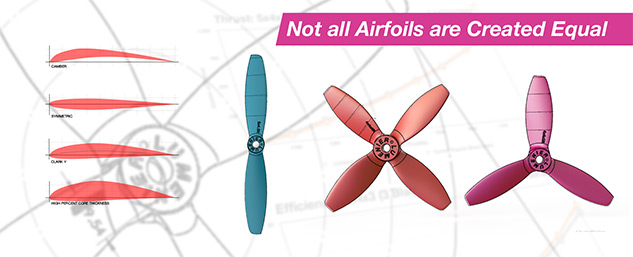 Calculus and proprietary algorithms help translate 2D coefficients of lift, drag, and moment into 3D coefficients that account for high blade loading and near static thrust conditions that a multi-copter will encounter during flight.